Kometa fought in the I. league playoffs 2009
Kometa bought the extraleague licence from Znojmo
So the wait is over, after all. No big celebrations though...
Finals: HC Kometa Brno - HC Slovan Ústečtí Lvi 2-4 (3:5 (A), 1:3 (A), 5:1, 3:1, 1:3 (A), 1:2ot)
No, not even this year. How many more we'll have to endure...
Semifinals: HC Kometa Brno - KLH Chomutov 4-3 (1:2ot, 4:2, 1:5 (A), 6:2 (A), 1:4, 2:1ps (A), 3:0)
Kometa did it. The decisive game of the series brought Kometa joy in front of the home crowd, as they outplayed Chomutov 3:0 and deservedly got a place in this year's finals. Scoring: 7. Korhoň (Polodna), 56. Brabenec, 59. Korhoň (Brabenec)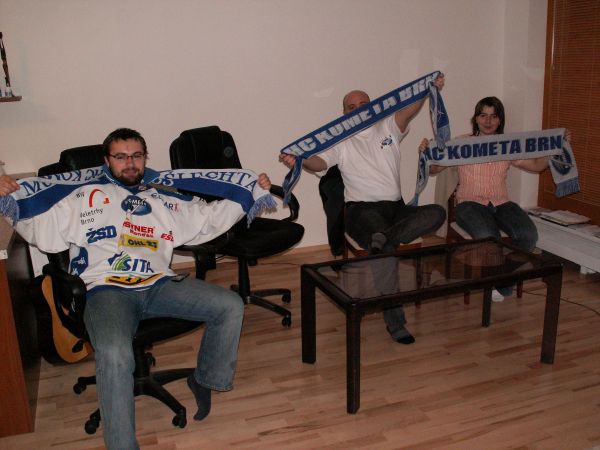 Please no more of this, for undertaking this takes toll on our health. Kometa forced game 7 with a win in Chomutov on penalty shots. Robert Kántor není člověk, Robert Kántor je bůh. See you on Tuesday! (0:1, 1:0, 0:0 - 0:0). Scoring: 9. Klimt (Polodna), 70. Kántor (the winning penalty shot) - 38. Květoň (Skořepa)
Game 5 saw Kometa burst out of the blocks, allowing Chomutov barely to cross the center line in the first fifteen minutes. The problem was, as we have often seen in this series, that the effort yielded no goals, and coming to the second period IT happened again - for the fifth time in five games Chomutov scored the first goal, 67 seconds into the period. With the help of a penalty they made it 2:0 and nervousness started playing a big part, the puck wouldn't stay on Kometa's sticks and that was the end of it. (0:0, 0:2, 1:2). Scoring: 60. Klimt (Padělek) - 22. Pulpán (Eiselt), 25. Jíra (Hlinka, Skořepa), 57. Eiselt (Pulpán), 60. Hlinka
Payback time - that's how game 4 could be called. After allowing Chomutov the first goal for the fourth time in four games, Kometa shifted to top gear and wiped out the opposition with six goals in 30 minutes. (3:1, 3:0, 0:1). Scoring: 10. Pucher (Brabenec, Korhoň), 16. Lhotský (Pucher), 18. Křetinský (Barus), 26. Sedlák (Klimt), 39. Brabenec (Pucher, Korhoň), 40. Kostourek - 9. Skořepa (Hlinka), 42. Skořepa (Grof, Pulpán)
Away for the first time Kometa didn't meet with their best form and quite easily lost the game. (0:3, 1:2, 0:0). Scoring: 38. Sedlák (Barus) - 1. Eiselt (Jíra), 17. Domin (Toivonen), 20. Květoň (Hlinka), 25. Eiselt, 29. Hlinka (Ťupa, Květoň)
The second game of the series seemed to be copying the same script as game 1, with Kometa only starting playing in the second period. This time it was enough, though, and overturning Chomutov's lead Kometa wrapped up their first, and crucial, victory in the series. (0:0, 2:1, 2:1). Scoring: 31. Brabenec (Liščák), 36. Kántor (Brabenec, Pucher), 50. Kántor (Lhotský, Liščák), 51. Pucher (Vondráček) - 24. Skořepa (Hlinka), 49. Grof (Jeslínek, Eiselt)
The first home game was nervous and Chomutov had its share of fun in the first period, taking an early lead. Kometa shifted up to make it 1:1 in regulation, but allowed a penalty in overtime which ultimately cost the game. (0:1, 1:0, 0:0 - 0:1). Scoring: 33. Koma (Pucher, Křetínský) - 2. Mikšovic (Hašek), 66. Skořepa (Pulpán)
Quarterfinals: HC Kometa Brno - Mora Olomouc 4-0 (4:1, 3:1, 4:2 (A), 3:2ps (A))
Kometa finished the quarterfinal clean sweep with a 3:2 victory on penalty shots in Olomouc and await the opponent for the semifinals.
The third game, first in Olomouc, was probably the tightest so far, but Kometa wrapped up the 4:2 victory with last minute's empty net goal.
Kometa left noone in doubt that quarterfinals are but a warm-up for battles to come and in the first two home games cruised to 4:1 and 3:1 victories.