Jekaterinburg fans were very friendly and keen on exchanging club scarfs
2008-04-13: Spartak Moscow Region are the champions
Led by tournament MVP Lauren Jackson, Tina Thompson, Diana Taurasi, Sue Bird, Tanya Schegoleva and other big names Spartak did what they were expected to do and beat Žabiny in the finals 75-60 to defend the european women basketball club title. Zuzka Žirková did what she could but her 16 points were enough to just bring the margin down from over 20 to hopeful 7 points some way into fourth quarter, but she couldn't do it all by herself and Spartak never lost control of the game, regained composure towards the end and lifted the well-deserved trophy at the end of the night.
Earlier, Jekaterinburg, with storming support of the fans in orange, won by 1 point with a three-pointer from Aubert that sunk down in the last second of the game and took the third spot away from Bourges who finished fourth and unluckiest team of all, having lost both games within final 5 seconds.
2008-04-12: Žabiny face Spartak Moscow in the finals
Spartak Moscow left noone in doubt who's this year's euroleague favorite, dismissing Jekaterinburg with a 10 point margin 78-68 in the first semi-final of the Final Four tournament in Brno. Lauren Jackson led the shooters with 35 points. But the true thriller was yet to come.
Bourges hurled into the second semi-final with Žabiny with great determination and had more of the match most of the time, leading 32-15 in the second quarter and taking a ten point lead into the fourth. But Brno girls were never going to give up and came back to 75:75 with just under a minute to go. With 10 seconds remaining, Sonja Kireta made two free throws to give Bourges a two-point lead. Hanka Machová took the ball and drew a foul and two free throws with just 5.5 seconds left in the game. She made both, to a great delight of the home fans, to bring the match to overtime that saw Brno side outscore the French by 9 points, and put the crowd in extasy, for 90-81 win overall. More about the game in Czech from Věra...
Sunday finals will give Žabiny a chance for revenge for two defeats in the group stage from Spartak, Jekaterinburg and Bourges will fight for honor in the 3rd place match.
2008-04-11: The battle for the title begins...today!
Final Four tournament of the Basketball Euroleague Women begins today with semifinal matches - home team Žabiny faces Bourges Basket, and in the russian show-off Jekaterinburg plays Spartak Moscow.
2008-03: Žabiny to host Final Four
Two years after the triumphant ride through the Euroleague Women, Žabiny will once more have a chance to fight for the title of the best European ladies' basketball club in their home environment of the city of Brno, Czech republic. After French side from Bourges failed to guarantee the final tournament financially, the officials at the European Basketball Federation were left with little choice, as the two other competing teams are both from Russia which hosted the tournament last year.
Michael Jordan is the Basketball God
I vowed in 1998 that if Chicago Bulls win their sixth title with Michael Jordan, I'd put this statement up forever on my website. They won.
Eva Němcová is the Basketball Goddess
In the European Championship Finals 2005 she scored the winning 3-pointer with just 7 seconds left in the game and joined Jordan in this Hall of Fame.
--
I love basketball since being in high-school. I love it. The sound of the ball going through the net, no matter if it's made from metal chains or cotton or what they make it from... I also had some moments of glory, scoring four out of four free throws in a game at the Masaryk University tournament, twelve points and two three-pointers in another (the game was a 32:34 loss anyway :-)). I honestly attended the tournament with my teammates (Obluda, Gop) for four consecutive years, until my knee at last prevented me from the ultimate fifth participation.
--
Žabiny vyhrály evropskou ligu basketbalistek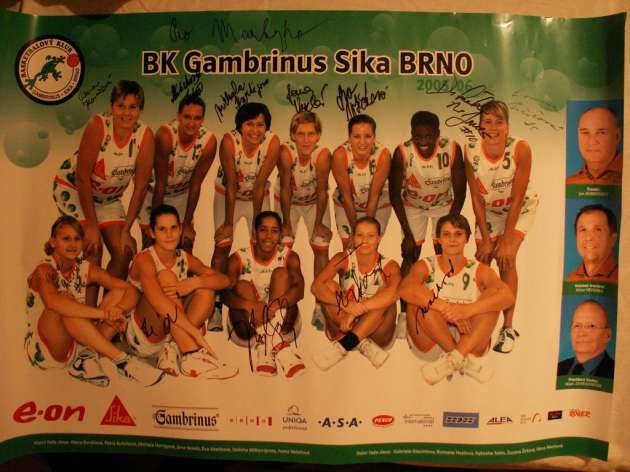 Němcová se loučí ve třiatřiceti letech s aktivní kariérou
(from
zbasket.com
)
Svůj poslední zápas aktivní kariéry odehrála Eva Němcová letos 12. ledna v osmifinále Evropského poháru FIBA v dresu Parmy proti izraelskému Hašaronu. Italský tým v prvním duelu prohrál 61:86 a Němcová strávila na palubovce třicet minut a vstřelila čtyři body. K odvetě do Izraele už česká hráčka ani neletěla. Natažení vazů v kyčli urychlilo její rozhodnutí o skončení aktivní kariéry.
Ve třiatřiceti letech nejlepší basketbalistka Evropy z roku 1996, která loni v září trojkovým pokusem rozhodla o vítězství české reprezentace ve finále mistrovství Evropy nad Ruskem, ztratila motivaci.
"Každý sportovec pozná, kdy nadešel věk na ukončení kariéry. Nemá význam toto rozhodnutí, i když nebylo snadné, lámat přes koleno. Zranění společně s psychickou únavou udělalo poslední tečku při mém rozhodování. Ukončila jsem smlouvu v Parmě, kde jsem ještě hrála Evropský pohár, nyní jsem už osm dnů doma," řekla Němcová.
Koncem listopadu 2002 Němcová ze zdravotních důvodů po vleklých problémech s kolenem oznámila konec kariéry poprvé. Po odpočinku a odeznění bolestí ale neodolala a vrátila se zpět pod bezedné koše.
V minulé sezoně se po šesti letech objevila zpět i v české reprezentaci. Ve finále proti Rusku na mistrovství Evropy v turecké Ankaře přispěla svým tříbodovým košem k historickým zlatým medailím českých hráček. Tato střela vynesla reprezentační oporu mezi hlavní hvězdy šampionátu.
Basketbalistka přiznala, že v návratu do národního týmu také hledala náplast a zapomenutí po rozchodu se svým dlouholetým francouzským přítelem Rogerem. Nyní si Němcová našla nového partnera, který hraje basketbal v druholigovém Kolíně. "Žít bez lásky nelze," poznamenala excelentní hráčka.
Nejlepší roky kariéry strávila mistryně Evropy z loňského roku ve francouzském týmu Bourges, s nímž v letech 1997 a 1998 zvítězila v Evropské lize. V roce 1996 byla navíc vyhlášena nejlepší basketbalistkou Evropy. Svými výkony se rovněž prosadila v zámořské WNBA, kde hrála za Cleveland.
"Mám za sebou šestnáct let života ve vrcholovém basketbalu. Ráda bych u sportu a basketbalu zůstala a uplatnila své zkušenosti. Zatím ale nevím, zda v roli manažerky, nebo jiné funkci," dodala Němcová.
Trenéra české reprezentace Bobrovského rozhodnutí Němcové zamrzelo, ale její argumenty uznává. "Myslel jsem si, že nám po výborných výkonech na mistrovství Evropy v Turecku ještě pomůže i na nadcházejícím světovém šampionátu. Na druhé straně chápu, že má věk na to, aby si založila rodinu. Nicméně jí budu i nadále fandit a v dalším osobním životě jí přeji hodně úspěchů," uvedl Bobrovský.
erestor.net se k přání pana Bobrovského připojuje.
Mistryně Evropy v basketbalu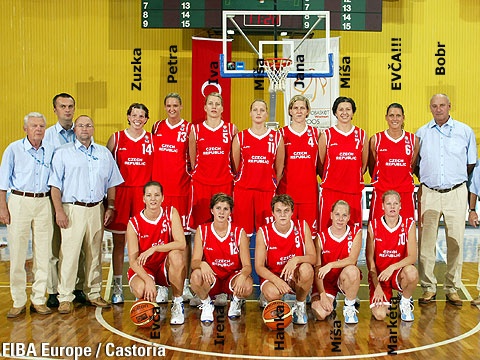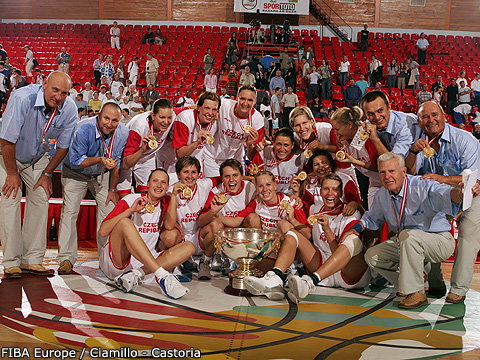 Češky zdolaly na mistrovství Evropy basketbalistek Rusky a staly se mistryněmi Evropy!!! (Hanko klaplo to!)
Eva Němcová dala trojku sedm vteřin před koncem a vyrvala Ruskám pohár z rukou, vždyť naše holky skoro celý zápas prohrávaly, rozdíl byl už více než deset bodů!
Evča byla také s 18 body nejlepší střelkyní svého týmu. Na druhé straně to byla Máša Stěpanovová, bývalá hráčka koho jiného než Žabin, která nejlépe střílela, a dala rovněž 18 bodů.
Nutno připomenout, že Jana Veselá, Eva Vítečková, Míša Uhrová a Míša Hartigová si připisují už druhé zázračné vítězství nad Ruskem - to první přišlo ve finále Mistrovství světa juniorek v roce 2001 v hale Rondo v Brně (autor těchto stránek tam byl, stejně jako dalších asi 6000 lidí).
Tehdejší zápas se ovšem dramaticky lišil od toho dnešního diváckou kulisou, a proto APELUJI NA EVROPSKOU BASKETBALOVOU FEDERACI, ABY VELKÉ AKCE NEPŘIDĚLOVALA PODLE POLITICKÉ KOREKTNOSTI ALE PODLE ZÁJMU O BASKETBAL V TÉ KTERÉ ZEMI! TURECKÝ "ZÁJEM" BUDE TOTIŽ NAVŽDY KAŇKOU V SEŠITĚ HISTORIE EVROPSKÉHO ŽENSKÉHO BASKETBALU.