Villach Go Congress 2007 report
My final tournament record: 7-3
Final standing (4k group): 289th of 573 (3rd of 29)
2007-07-29
The day after
:
Thanks for following the tournament news on erestor.net!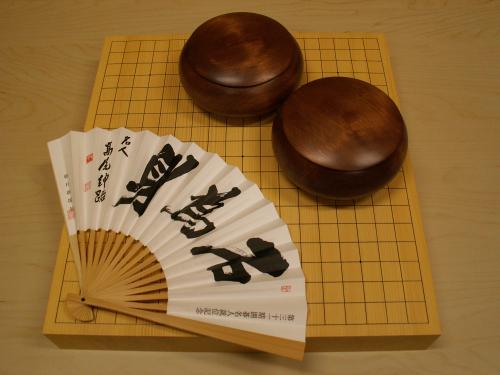 2007-07-28
Final day
:
Main tournament: Miracles don't happen and after the poorest fuseki in the tournament I tried hard to come back but lost by 6 points to
Martin Koppernock
of Germany. 7 wins is nonetheless a great record and hopefully I'll be moving up the ranks a bit. (7-3)
Game record:
Erestor - Martin (2k) (B)
The tournament was won by Hong Seok Ui of Korea, with his countrymen Park Jong Wook and
Cho Seok-bin
being the runner-ups. Young Russian Ilya Shikshin at 4th spot overall clinched the European title. Congratulations!
In "Moby dick" which was sort of official go congress pub I had a unique experience in the evening, when the tournament winner asked me to sign his fan. I humbly did so and asked for returning the favor, which Hong Seok Ui kindly did.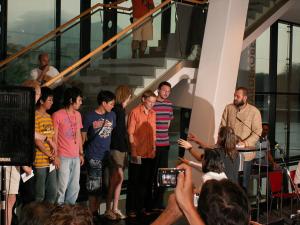 Tournament winners... from some distance :)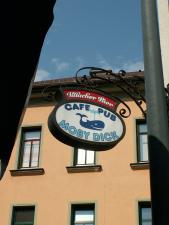 Moby dick, go players' h(e)aven
2007-07-27
Day 14
:
Main tournament: Narita Naoteru-san, 2-dan, from Yokohama, became by chance my second japanese opponent in a row. Actually, I've played a couple of friendly games with Narita-san earlier, so I knew his style and, more importantly, knew that I could prevail. I played a safe territory-oriented game and won on points after just about an hour. (7-2)
Game record:
Narita Naoteru (2d) - Erestor (B)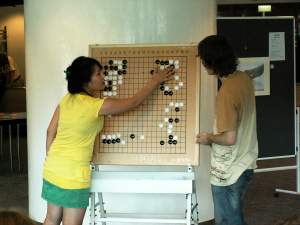 Kang Seung-hee
sensei explains a tsumego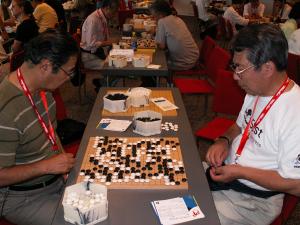 Friendly matches were countless
2007-07-26
Day 13
:
Main tournament: Secured kachikoshi with a win by resignation after a furious battle against
Tanaka Hideo
-san, 1-kyu, from Nippon. Of course this is the strongest opponent I've ever played and beaten in a tournament. (6-2)
Game record:
Tanaka Hideo (1k) - Erestor (B)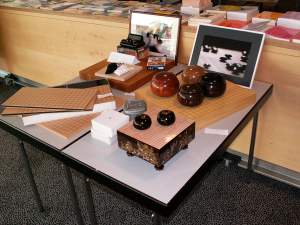 Splendid variety of go sets for sale
Guo Juan
sensei
2007-07-25
Day 12
:
With the weather back to hot normal, had some chance to hang around the Villach center, climb 239 stairs to take some nice pictures and relax before main tournament runs into the homestretch.
Main tournament: Rest day.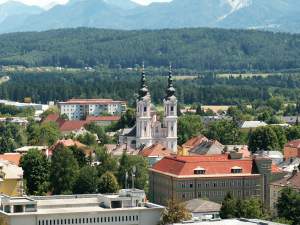 A Villach church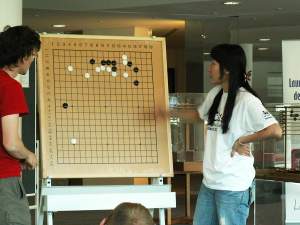 Yun Yeong-seon
sensei leads a workshop
2007-07-24
Day 11
:
Finally we have a change of the weather here in Villach, with some clouds and rain and pleasantly cool temperatures.
Main tournament:
Andreas Koch
became a second german 2-kyu player I've ever beaten (after Claas Roever last year in Dublin). Also secured non-makekoshi record for the tournament with 3 days to go. (5-2)
Game record:
Erestor - Andreas (2k) (B)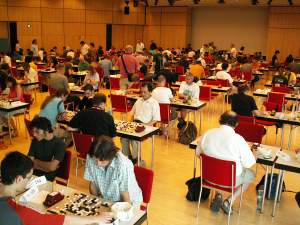 Main tournament in progress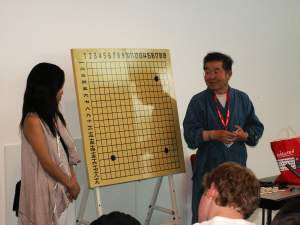 Nakayama Noriuki
-sensei talks about go
2007-07-23
Day 10
:
Main tournament: Won on time, but actually this was a no-contest, as my opponent,
Maxim Koronovski
(3k) of Germany, didn't bother to show up. Too bad for him. (4-2)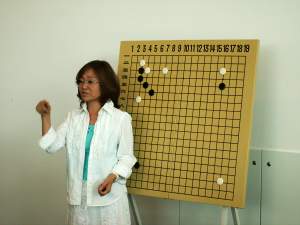 Kobayashi Chizu
-sensei giving a lecture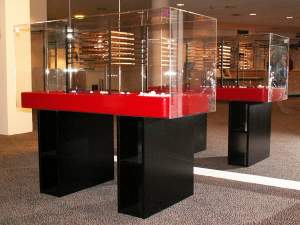 3D go promoted to 4D :)
2007-07-22
Day 9
:
Main tournament: Rest day.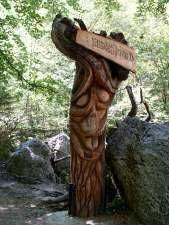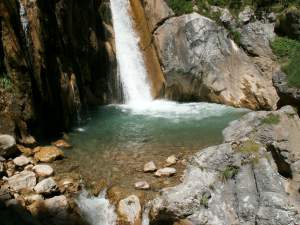 2007-07-21
Day 8
:
Did a bit of a sight-seeing, saw apes and bonsai trees and some mountains :).
Main tournament: Rest day.
Macaque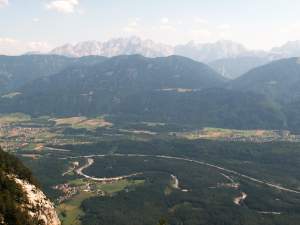 Alps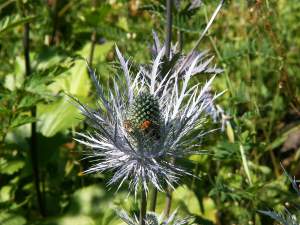 Macro attempt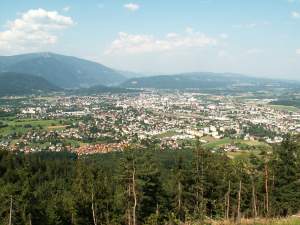 Villach
2007-07-20
Day 7
:
Main tournament: Bounced back at last with a win against
Jan Harms
of Germany. (3-2)
Game record:
Erestor - Jan (5k) (B)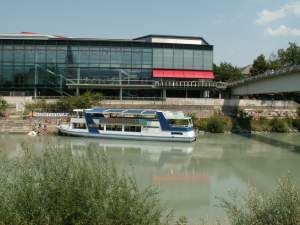 Congress Center Villach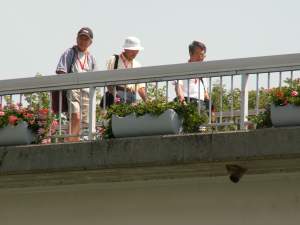 Happy congress participants
2007-07-19
Day 6
:
Main tournament: Battled Russian
Alexander Bitman
for 5 hours, lost by 1 point (Ing rules). Needless to say, this hurts. At least Kotomitsuki's doing well in his tournament. (2-2)
Game record:
Erestor - Alexander (3k) (B)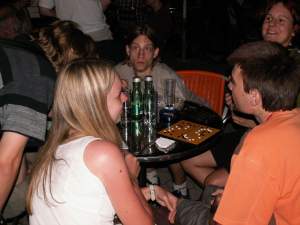 Go players hit the Mobydick pub...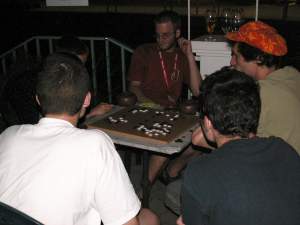 ...even some really strong ones
2007-07-18
Day 5
:
Some side tournaments happening at CCV, but a trip (and a climb up) to Dreiländereck - mountain on Austrian-Italian-Slovenian border - was certainly more appealing. :)
Main tournament: Rest day.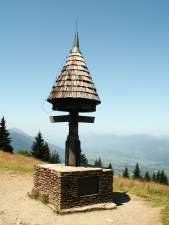 Top of Dreiländereck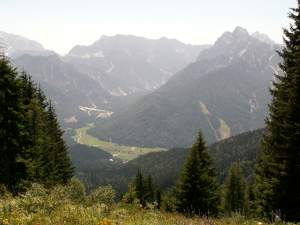 Slovenian valley
2007-07-17
Day 4
:
Main tournament: Lost footing for the first time today, made several serious mistakes and resigned in the endgame to
Jonas Kraujelis
of Lithuania. (2-1)
Game record:
Jonas (2k) - Erestor (B)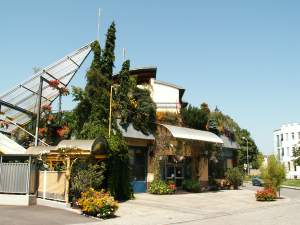 A house in the vicinity of CCV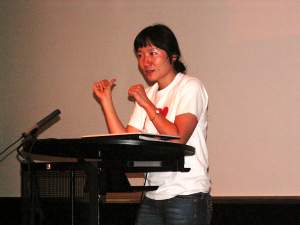 Charming
Yun Yeong-seon
sensei
2007-07-16
Day 3
:
Saw camels, again, in the morning on the way to the Congress Center.
Main tournament: Exhausting win after some fierce but well-planned fighting against
René van Breugel
of Netherlands by resignation. (2-0)
Game record:
René (3k) - Erestor (B)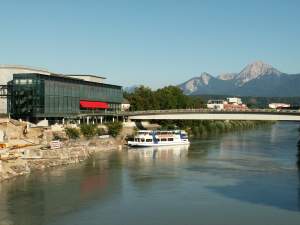 Congress Center Villach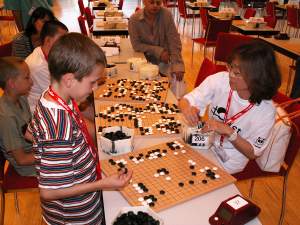 Kobayashi Chizu
-sensei in simul action
2007-07-15
Day 2
:
Played two more games of party rengo, lost both.
Main tournament: Set off with the right foot, won against
Matthieu Walraet
of France by resignation just after 62 moves. (1-0)
Game record:
Erestor (4k) - Matthieu (4k) (B)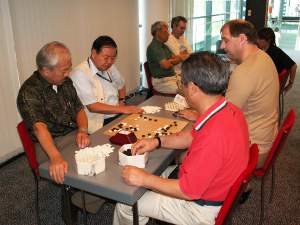 Party go in progress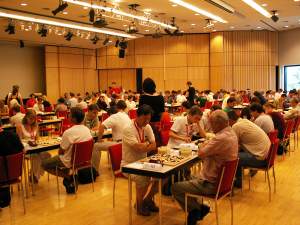 Deep contemplation during main tournament
2007-07-14
Day 1
:
Arrived in Villach, played two games of party rengo, won both. :)