Leksand European Go Congress 2008 report
Full photo gallery

Main tournament result: 5-5, 440th of 718, 12th of 30 in 4-kyu group

Weekend tournament result: 5-0, 215th of 421, 1st of 20 in 4-kyu group

2008-08-10
The day after
:
Thanks for following the tournament news on erestor.net!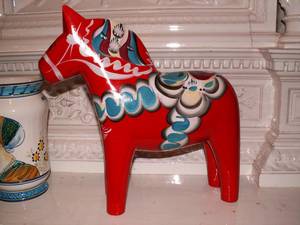 Traditional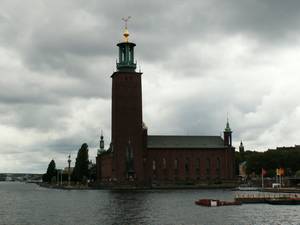 Made it to Stockholm for half an hour!
2008-08-09
Final Day
:
The tournament was won by Park Jong Wook 7d of Korea (who was my personal favorite), Romanian Catalin Taranu 5p at 5th spot overall took the European title. Congratulations!
Main tournament: As last year, lost the final game, this time with black against
Ivana Stojanovic
of Serbia. Took the liberty of not providing the game record (5-5). :)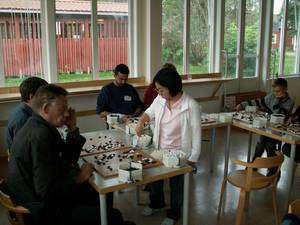 Erestor and five others battling a pro in high-handicap simultaneous fast games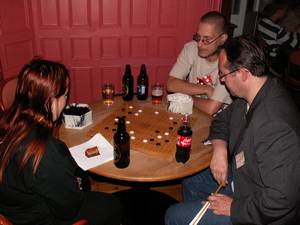 Rengo in Gästis Pub featuring Carin Monvall, Karel Vaigl and Mr. EuroGoTV 1-dan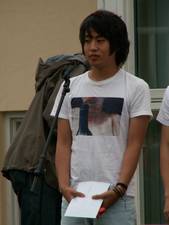 Park Jong Wook, main tournament winner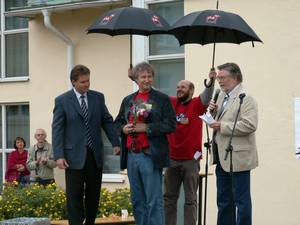 Merry men of Leksand, the mayor on the right
2008-08-08
Day 13
:
Rain, rain, and some rain.
Main tournament: Played with white again, black was Gerard Carbone of France. Got lucky this time and after my opponent's mistake early in the game it was just a matter of wrapping it up safely (which can be the most difficult thing to do). I managed, nevertheless, and won by resignation after just about 90 minutes (5-4).
Game record:
Erestor - Gerard Carbone (4k) (B)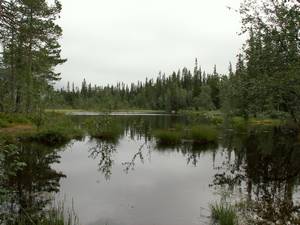 National park again...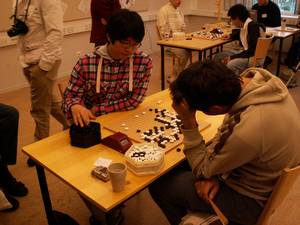 Top players fighting
2008-08-07
Day 12
:
Rain in the morning, but it turned out to be a rather nice day, no cold wind.
Main tournament: Had white against
Gerard Bouwman
of Netherlands and decided to play fast (as Miyamoto Naoki-sensei 9-dan says, use your time to make money :)), had a happy opening and middle game while attacking opponent's groups with which he invaded my moyo. After the attacks were over, I was behind, but black was a bit thin which I exploited to turn the tables and win (4-4).
Game record:
Erestor - Gerard Bouwman (5k) (B)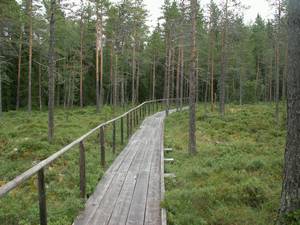 Skanzen near Fulufjällets Nationalpark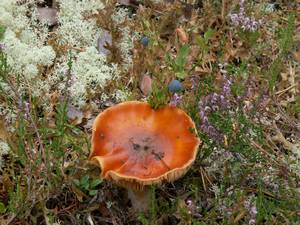 There's a mushroom in my bathroom...
2008-08-06
Day 11
:
Sunny spells and showers and cold wind characterized a day off which I used for visiting
Fulufjällets Nationalpark
at Swedish-Norwegian border, some 250 kilometers from Leksand, hosting among other natural sights the highest waterfall in Sweden.
Main tournament: Rest day, thinking about how to secure kachikoshi (winning record) in the tournament homestretch. Don't worry, I'm not a newbie, I'll pull some tricks from the sleeve. :)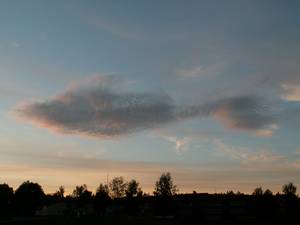 Flying fish, traditional swedish sushi ingredient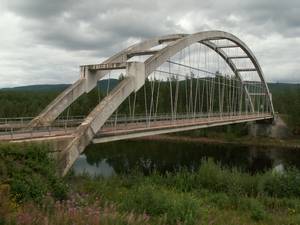 A bridge on the road to Särna
2008-08-05
Day 10
:
A little change in weather for the dryer, and colder.
Main tournament: Finally had a bad day and after a poor performace lost with black to a talented 6k from Spain -
Miguel Castellano
(3-4).
Sad game record:
Miguel Castellano (6k) - Erestor (B)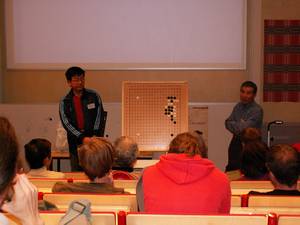 Aoki Schinichi-sensei 9-dan explaining his special fuseki strategy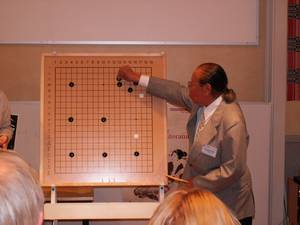 Miyamoto Naoki-sensei 9-dan uncovering a sure-win strategy for 5-handicap games
2008-08-04
Day 9
:
Cold, rain. Yeah. Ehm.
Main tournament: Brought weekend spirit into the game and won with white by resignation against
Danil Surkov
(5k) of Lithuania. The game was rather difficult, but after separating and killing one of the corner groups, black had to give in (3-3).
(Somewhat incorrect) game record:
Erestor - Danil Surkov (B) (5k)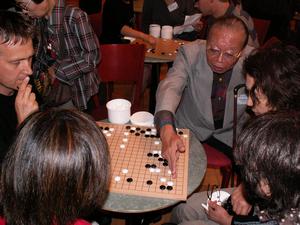 Miyamoto Naoki-sensei 9-dan explaining a move
Muraoka Shigeyuki-sensei 9-dan giving a lecture
2008-08-03
Day 8
:
No change in weather here. Ideal for playing go.
Main tournament: Rest day.
Weekend tournament: Continued strong performance with a win against Dutchman
Ivo Tonkes
(2k) and notched perfect 5-0 record for the second time in career in a match with
Tapio Poutiainen
(2k) of Finland!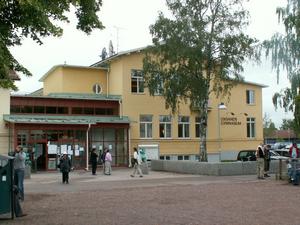 Leksands Gymnasium, the home of the congress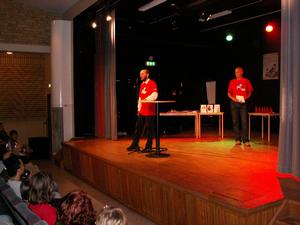 Price-giving after the weekend tournament
2008-08-02
Day 7
:
Kono ame yamanai kamo shiremasen ne. It's cold and it's raining uninterruptedly, so this is good weather for the weekend tournament.
Main tournament: Rest day.
Weekend tournament: Won all three games today beating
Juho Pakarinen
(4k),
Sari Kohonen
(3k) (both Finns) and Hirai Yasuo-san (2k) from Japan for a perfect 3-0 record.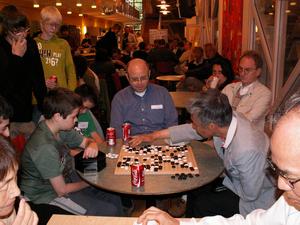 Masataka Saijo-sensei 9-dan in a friendly match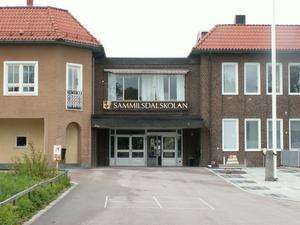 Sammilsdalskolan
2008-08-01
Day 6
:
It turned colder with showers of rain, feels like Ireland. Also I was very tired today. I lost my game to fall to unimpressive 2-3 record, but the (maybe strange) thing is I'm not unhappy about my go from the last two games. I have a feeling it's sort of coming together, after all, with the way I played I was able to win both games comfortably, it was the mistakes late in the games that let me down. The tournament is not over yet!
Main tournament: Aoki-sensei was talking about mini-chinese opening and I had black against
Martin Harvey
of England (whom I beat in Dublin this year), so I decided to try the Aoki-special (or a strategy devised by Aoki-sensei). It worked wonderfully and I had just about killed two thirds of the goban, when my reading (dis)ability which I DO train every day let me down in a life & death problem again. I played one unnecessary move into a position that was already dead, disregarding (and having overlooked) a fatal cut. After that there was no going back. (2-3)
Game record:
Martin Harvey (4k) - Erestor (B)
(incomplete, but I'll have the complete kifu soon from Mr. Harvey)
P.S. I'm playing the weekend tournament, so I promise I'll do well!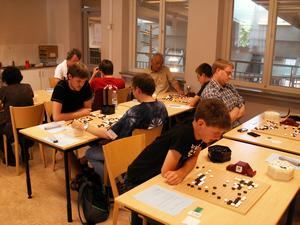 My yesterday game in front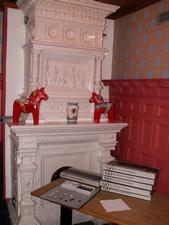 Inside the pub...traditional Dala horses and go equipment
2008-07-31
Day 5
:
Another sunny day, but a change of weather is in the air. I think storm and cold weather is scheduled for Saturday to draw more players to the weekend tournament. I'm also considering playing, which had been unthinkable before.
By the way, I played a couple of games with Huli, or Daniel Bengtsson, my friend from the Dragon Go Server, in the pub. That was a wonderful time!
Main tournament: Play a German three times in a row and you're in for trouble. I had white against a german youngster
Fynn Bachmann
and what looked like an easy game (which was surprising because the guy is two kyu stronger) turned a bit (like 20 points..) unfavorably after my mistake in life & death problem (yeah, happens, considered two ways of black attack, both looked safe, but there was a third way), so I resigned not long after that. (2-2)
Game record:
Erestor - Fynn Bachmann (2k) (B)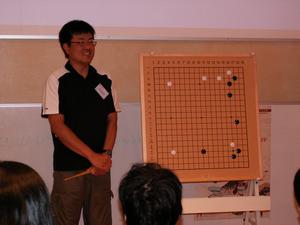 Aoki Shinichi-sensei 9-dan giving a lecture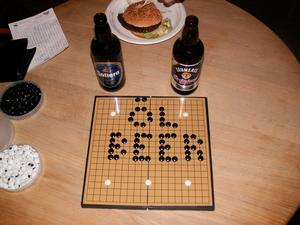 2008-07-30
Day 4
:
Went on a road trip around lake Siljan through Tällberg, Rättvik, Furudal, Orsa, Fryksås, Våmhus, Mora, Sollerön and Siljansnäs, back to Leksand. Needless to say, perfect sunny day. Björnpark (sort of zoo with many bears) near Orsa was nice, especially because I had my Bruins T-shirt on. :)
Yumi Hotta, Hikaru no Go creator, gave a speech as a part of the Go symposium, but unfortunately I wasn't able to make it.
Main tournament: Rest day.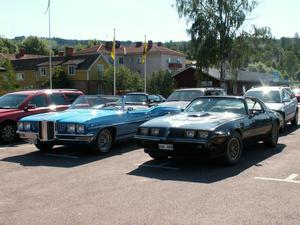 Believe it or not, but this is perfectly normal...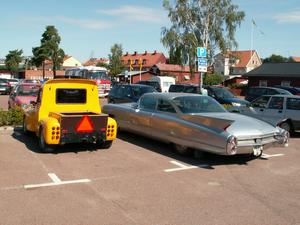 ...old american cars, like from old movies...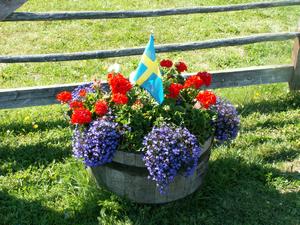 ...except we're still in Sweden!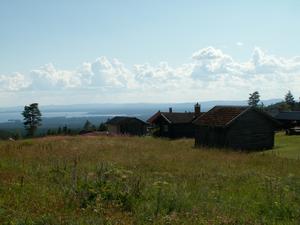 Fryksås village overlooking the Siljan lake
Babičko, proč máte tak velké oči??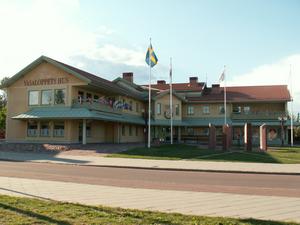 Vasaloppet museum

2008-07-29
Day 3
:
The Sun rays coming through the window blinds in the morning make you think that all the talk about rough Scandinavia, cold weather and snow are just... not true. It's as hot here as in any other tropical country. I had a wonderful game of one-color go yesterday that actually came to the end-game. It's not that hard after all :).
Also I have to mention the two japanese professional legends that provide tremendous inspiration for the people here - Masataka Saijo-sensei 9-dan and Miyamoto Naoki-sensei 9-dan. They're just great.
Main tournament: Had black and started on tengen, inspired by Honda-san (Hokuto Cup no Michi, HnG special 2004). And actually had a very happy game and won by resignation against yet another woman player and yet another German,
Ulrike Schmidt
, after successfully hunting down one of her big groups. Yosh! Kore wa watashi no igo desu! (2-1)
Game record:
Ulrike (3k) - Erestor (B)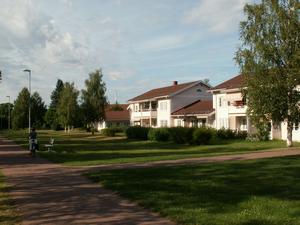 A typical Leksand street
The Leksand bridge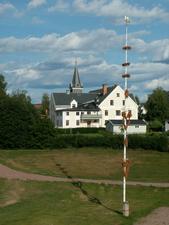 Don't know what it is but it's nice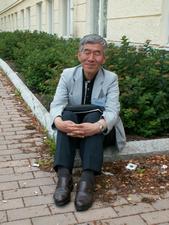 Masataka Saijo-sensei 9-dan
2008-07-28
Day 2
:
Another beautiful day near the Siljan lake. There was a bit of rain at night, but found a pub with beer for 25.
Main tournament: Rebounded with a decisive 40-point win with white against
Carina Tepper
of Germany. Didn't use as much time as yesterday, played my go and was having a good time. (1-1)
Game record:
Erestor - Carina (4k) (B)
Two photos won't do today, so enjoy an extended collection...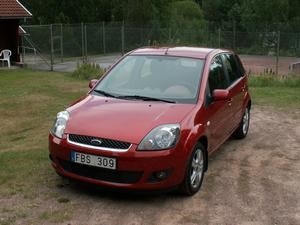 Means of transport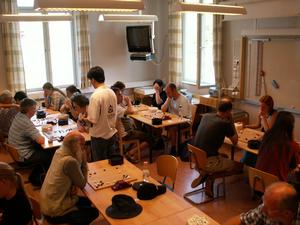 Main tournament in progress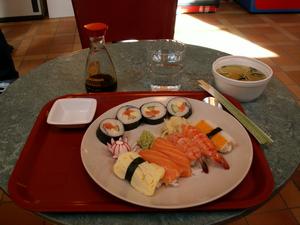 Itadakimasu!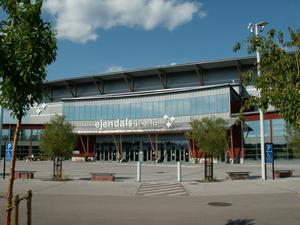 Ejendals Arena, home of ice hockey in Leksand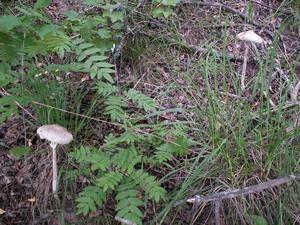 Shortcut to... mushrooms!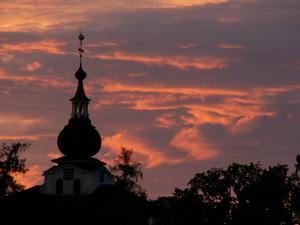 Leksand church spire, in sunset of course
2008-07-27
Day 1
:
Still very hot in Leksand, though the temperature has dropped and it seems there's a storm coming. Traditional chaos accompanied the opening of the main tournament, with people not knowing where to play, but everything settled pretty quickly.
Main tournament: Took black for starters and lost by resignation to
Marieke Overbeek
of Netherlands. Marieke managed to kill a big group of mine, which was the end of a rather unpleasant game that came apart much earlier though. (0-1)
Game record:
Marieke (4k) - Erestor (B)
One of the playing venues, Alleskolan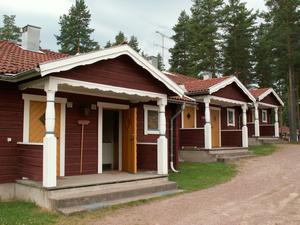 Hotel Moskogen, my Leksand haven
2008-07-26
Opening Day
:
Arrived in the small town of Leksand, to a tropical 32-degree-hot weather, after getting up at half two in the morning, driving to Vienna, flying to Stockholm and driving up through Uppsala to Dalarna region. Looks like there's a lot of space in Sweden, judging from the size of the parcels on which houses in Leksand are built. They're castles. The beer costs 50 swedish crowns.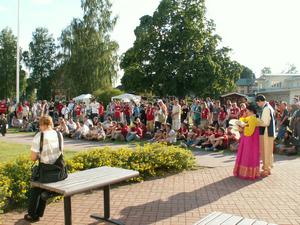 Opening ceremony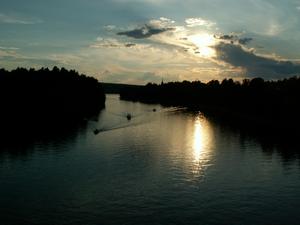 Lake Siljan bay in sunset